The Blyth Festival was founded in 1975 by James Roy, a native of Blyth and a graduate from the York University theatre programme, with the assistance of his wife, playwright Anne Chislett, and Keith Roulston, editor of the town newspaper, in the small rural community of Blyth in southwestern Ontario. Its mandate was "to give voice to our region and the country," and it has produced 200 Canadian plays since its inception as a professional summer theatre, of which 127 were born and developed at Blyth. More than half of these new plays have gone on to second or multiple productions across the country, and in some cases to many other countries, including Japan, Australia, Singapore, Great Britain, and Croatia. Plays developed at the Blyth Festival have won Governor General's Award and a number of Chalmers Awards. The Festival also hosts and presents professional plays and concerts in the winter season with particular emphasis on programming for high school and public school students. It plays to audiences of between forty and fifty thousand annually. In addition, the Blyth Centre for the Arts includes a professional art gallery, and professionally led choir and orchestra.
Blyth productions were originally aimed at local townspeople and the farming community, but the audience has grown substantially to include Canadians from across the country, and American visitors who combine a trip to Blyth with a visit to the Stratford Festival.
Early plays were collective creations, influenced by the success of The Farm Show, created by Paul Thompson with a group of young actors in nearby Clinton in 1972. Paul Thompson has devised many plays from Blyth since its inception, including The Outdoor Donnellys in 2002, based on James Reaney's trilogy, The Donnellys. For the 2003 season, Thompson devised a musical entitled The Hippies; and for 2016, he co-wrote a sequel to the Donnelly story with Gil Garratt, entitled The Last Donnelly Standing.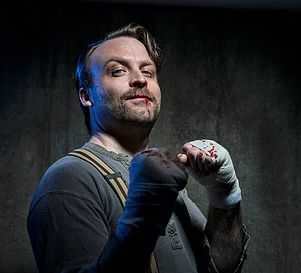 Gil Garratt, Blyth Festival Artistic Director, in The Last Donnelly Standing
Full Article at: http://www.canadiantheatre.com/dict.pl?term=blyth%20festival